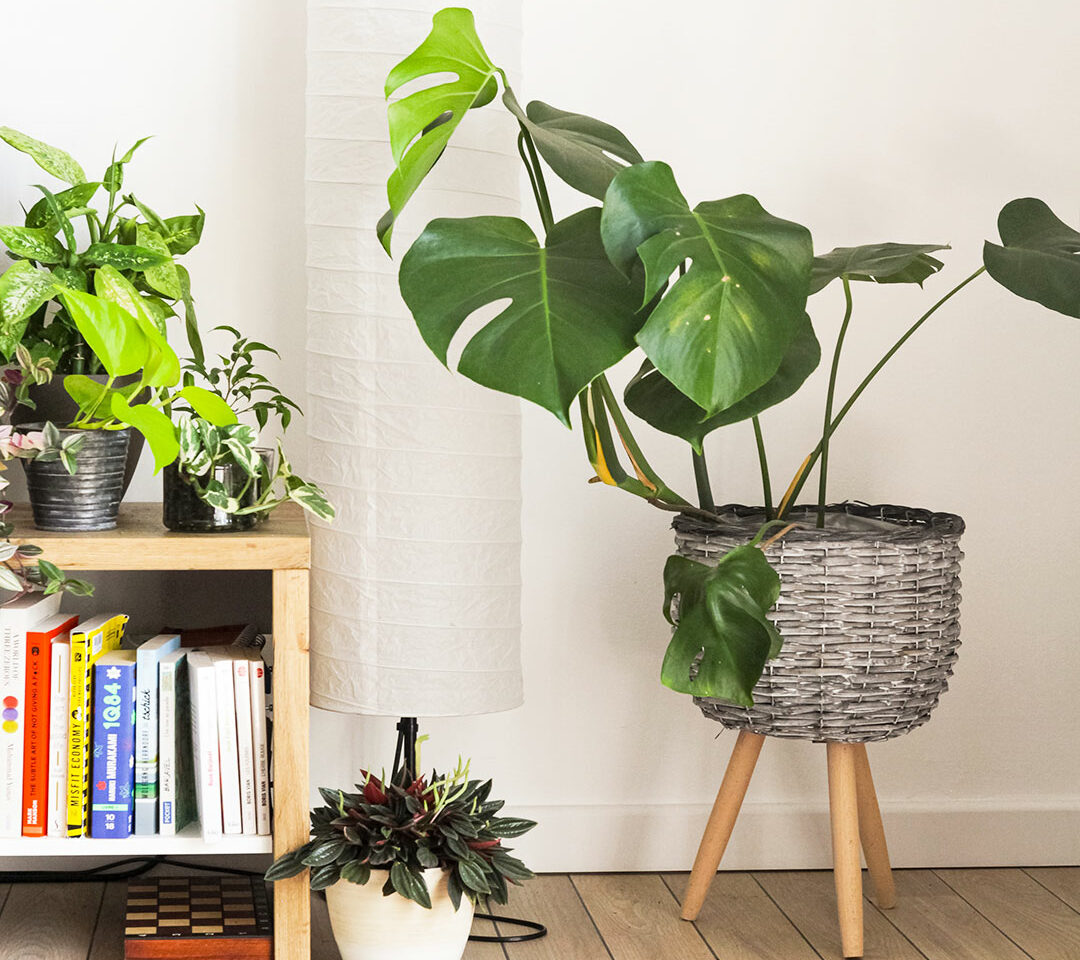 Tips and Tricks for temperature control
1
Avoid shock ventilation
The best way to clean at home? Airing! Germans swear by Stoßlüften – the act, or art,  of cracking all windows open at once to let nasty, stale air out and fresh air in, even in the dead of winter. Airing, especially in winter, can really stress out plants. Some houseplants don't even tolerate short periods of cold exposure. Our tip:
Keep your plant away from drafts
Limit airing time to avoid large drops in room temperature. That's it!
2
Keep your plant away from cold and drafty windows.
Older or not well-insulated windows can get very cold and drafty. Cold windows can injure your plant if its leaves touch the glass. Our tip:
If you feel you could cool your drink at the window, you should probably find a warmer spot for your plant. Move it away from the window glass.
Check the temperature on your windowsills with a thermometer to be sure.
3
Plants vs. Aircons
Most houseplants thrive in heat and humidity. But air conditioning is designed to keep them both to a minimum. In fact, air conditioning may cause your plants to lose color and shrink and may even kill them. Our tip:
Make sure you don't set the temperature too low
Choose species that can cope with variations in temperature and humidity. Hardy specimens will deal with almost anything the air conditioner throws at them, but delicate blooms are likely to die as soon as you turn the system on.
Move more delicate varieties to other parts of the house without A/C.
Don't place your plants near drafts.
4
Beware of heaters
Even though heaters are one of our best friends in the cold seasons, the same doesn't hold true for our plants. While plants generally enjoy the warmth, radiator heat can make them uncomfortable. More importantly, they dry out the air in the room. The air near the radiator can be arid and scorchy. The dose makes the poison! Our tips:
Don't place your plants closer than 1.0 meters to your heater, and don't hang them directly above it.
Pep up air humidity. Put bowls with water on the heater or under / next to your plants. Better yet: get a humidifier!
Pro tip: Use a hygrometer to measure humidity. If you#re between 50%-60%, you're golden. POW!
5
Guard against underfloor heating
In nature, plants are used to geting their light and warmth from above or from the side. Underfloor heating turns the plant's heat source upside down and emits heat towards the root ball, where the plant stores moisture—leading it to dry out quickly. Moreover, the temperature difference between the rootball and the leaves might stress your plant's metabolism. Our tip:
Insulate your plant from the heat source. Use cork coasters or polystyrene foam sheets, for instance. Or put your plant on a plant stand to create distance to the floor.
Underfloor heating also dries out the air.  Increase the air humidity with water-filled bowls or a humidifier.
Check the soil regularly. Chances are that you have to water more frequently because the heat dries out the substrate faster.
Move sensitive plants like calatheas or alocasias to another room.
6
Keep an eye on your South window
Plants love south-facing windows. But depending on where you live or the season, the blazing midday sun can become a real problem in summer. Moisture in and around your plant evaporates much more quickly, and the intense sunlight can cause leaf burns. Our tip:
Reserve your south window for sun-loving plants that deal well with intense light.
Move your plants a bit away from the window.
Water your plants generously. In summer, this can be once every two days.
When watering, make sure that no water gets on the leaves. Water drops can acts as an accelerant for leaf burns.
Do temperature requirements vary by species or season?
Yes. Here are the three most important phases:
The growth phase (spring)
Most houseplants need temperatures above 18 degrees Celsius for their metabolic processes to run optimally and induce growth. Temperature needs will increase after the winter dormancy period.
Temperatures below 15 degrees Celsius slow down growth and can cause stress
The flowering phase (spring/summer)
Do you want to enjoy your flowers for a long time? Flowering plants love balanced temperatures. Avoid temperature fluctuations.
Your plant needs all its energy for flowering  – try to avoid further stress!
Keep in mind that some plants only bloom after a dormancy period in a low-temperature environment (see below).
Dormancy phase
Here's where it gets tricky: Depending on the plant species, the temperature requirements for the dormancy phase differ.
Tropical houseplants still prefer temperatures above 18 degrees Celsius.
Avoid potential cold sources such as old windows or drafty front doors.
Subtropical houseplants, especially cacti and succulents, need lower temperatures during dormancy to produce flowers in spring.
Place your plant at a sill near a cold window, or any bright location in your place that isn't heated.
The minimum temperature is species-specific: Check our plant library for information on optimal temperature during dormancy.
Reading Plants: How can I tell if my plant is experiencing temperature stress?
Plants are silent creatures. But they do send out silent signals when they're feeling uncomfortable. Learning to read these can go a long way to establishing a happy relationship.
Signs of cold stress
Look out for one of the following:
Brown leaves
Yellow leaves
Leaves or even the whole plant droops, wilts and looks limp
Cacti become discolored or burst open
Losing buds can mean that your plants has been exposed to persistent drafts
This is how you turn the leaf:
Ensure that the room temperature does not drop below 15 degrees Celsius.
Cold damage despite a warm apartment? Then place your plant away from windows, doors, air conditioners, and fans.
Drafts are an underestimated yet common cause of cold damage. Give your plant a spot far away from doors or windows.
A whole shoot hanging limp and leaves turning brown? Then it's rest in peace, little shoot. Remove it with a clean knife. Frozen plant parts will not recover.
A few plants that tolerate cold a bit better than others:
Epipremnum aureum (ivy).
Zamioculcas (lucky feather)
Chlorophytum comosum (green lily)
Aspidistra (cobbler palm)
Signs of heat stress
Look out for one of the following:
Wilted leaves
Flowers and fruits fall off quickly
Plants dry out very quickly
Brown-gray spots on leaves
Yellow leaves
Several leaves fall off at once – this could also be a sign of large temperature fluctuations
This is how you turn the leaf:
Place your plant away from the heat source.
Most houseplants prefer indirect sunlight. Place your plant further away from the window.
These plants tolerate heat stress better than others:
Tradescantia (three-master flower).
Crassula ovata (money tree)
Dracaena marginata (Dracaena)
Sedum morganianum (Donkey's Tail)
Good to know: dry air in winter makes houseplants susceptible to bugs. These include spider mites, scale insects, thrips as well as mealybugs. Check your plants regularly for pests.
A quick recap:
Temperature affects the plant's metabolisms and growth processes
Depending on the type of plant and the season, the optimal temperature can vary.
Wanna be safe?  Most houseplants can cope with temperatures between 16 and 25 degrees Celsius.
Last but not least: Avoid direct exposure to heat or cold sources.